Design Your Own Puma Shoes
advertisements

Design your own Puma shoes is something you can do in the early morning while having a cup of English eat or listening to your favorite music. It takes zero dollars to design or customize a pair of your own Puma shoes because you can do it online as long as you are connected to the internet. In order to begin, you have to access to PUMA factory official website and use the online program to customize and design your own Puma shoes. You can do this with a PC, Mac, iPad, iPhone, Android phones, or any Android tablets as long as you have an internet connection to the WWW.
Well, anyone can design their own Puma sneakers, Puma shoes, soccer shoes, or football boots but the question is, can you make it nice? Inspiration and idea are still the most important things if you want a pair of unique Puma shoes that no one else has it. Therefore, sit back and relax then you can follow the tutorial below to start create your own Puma shoes.
Step One: Go to PUMA Factory at factory.puma.com from your PC, Mac, iPhone, iPad, or any Android devices. On your top left, click or tap on the CUSTOMIZE button to enter to Puma Factory page.
Step Two: A list of Puma shoes will be appeared at this page including Suede, sneakers, soccer cleats, First Round, Speed Cat, and others. Select the shoe model you want to customize and click on the green DESIGN IT button. The price range is usually in between $100 and $300 and it will be stated clearly on top of the button.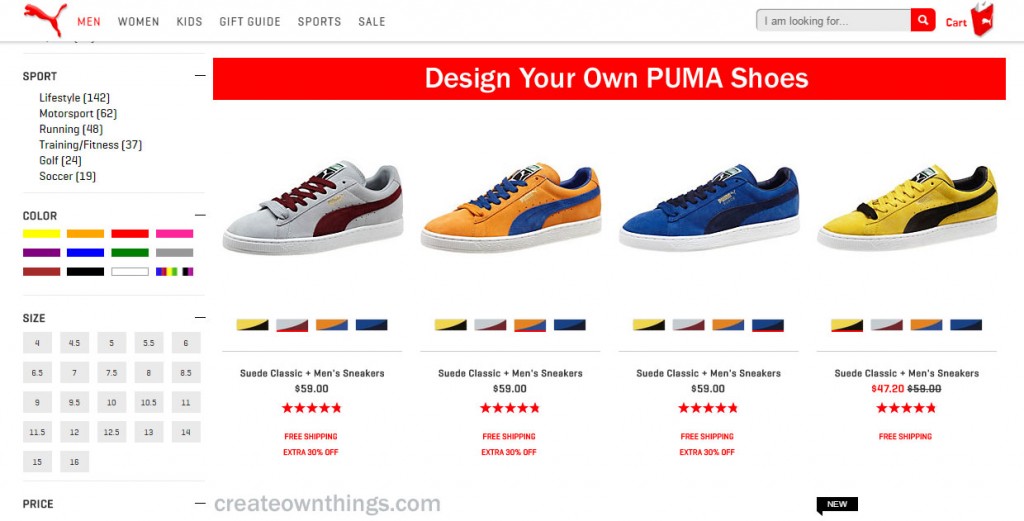 Step Three: You will now see a huge sample shoe appear in front of you. You can start your own design by clicking any part of the sample shoe and select the pattern or color you want from the color panel on the right hand side. The sample shoe will change according to what you have selected but it will take 1-2 seconds to load the new design depending on your connection speed.
You might also like: Design your own Jordan shoes online, Customize your own Adidas shoes online.
Step Four: Continue to design your own Puma shoes by completing each part of the shoe. For example, if you are doing this with the PUMA First Round, you need to put your preferred color to the eyelets, fat lace, thin lace, tongue, label, outsole, outsole stitching, vamp, eyestay, colloar, help cap, linings, Puma logos, formstrip, quarter, and more. Instead of colors, you can use pattern for certain shoe parts.
Step Five: Keep trying different types of colors until you are satisfied with your own design. You can also use the 360 degree viewer to view the shoe from top, front, back, left, and right so that you have a clue of how does the shoe looks like.
Step Six: Most people couldn't resist not to buy the shoe they spent hours to design it. If that is the case, you may click on the "Add To Bag" button and make a payment to Puma to have them custom build the shoe for you. It usually takes only 2 to 3 weeks for the delivery.
Now what? Want to try to create your own Nike shoes online for free?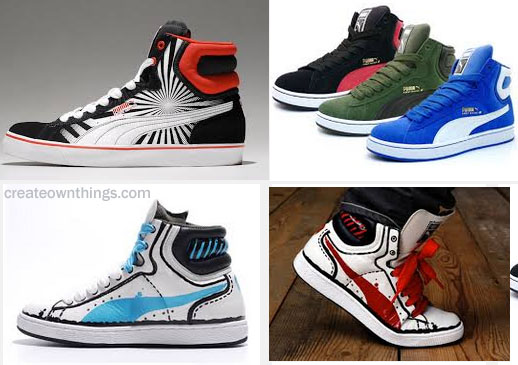 Custom PUMA First Round Shoes
advertisements