Create Your Own Basketball Shoes
advertisements

Nike, Adidas, Converse, Reebok, and PUMA allow you to create your own basketball shoes online for free. It is a must to do it at least once in a lifetime especially if it is your dream to own a pair of your very own basketball shoes. With the online program provided by these top basketball shoe brands, you can easily craft a pair of basketball shoes with your computer, laptop, Mac, iPhone, iPad, or any Android devices that is able to connect to the internet.
In this tutorial, you will learn how to design your own basketball shoes online with NIKEiD. Nike is chosen to be the tutorial here because we have posted two related article before, they are create your own LeBron James shoes and design your own Jordan shoes. Once you have learned how to create your own basketball shoes with Nike, you can do it with Adidas, Converse, Reebok, or PUMA easily.
Step 1: First, open a web browser and access to NIKEiD official website at NIKE.com. Expand the SPORT category and select Basketball. Under Category, select Shoes to remove all unwanted basketball gear. You should be able to see a list of customizable basketball shoes appear at this page.
Step 2: Under Shoe Technology, you have an option to filter away those basketball shoes that you don't prefer. There are Nike Zoom, Nike Air Max, Nike Lunarlon, Nike Flyknit, Nike Flywire, and Hyperfuse under the list. Pick the shoe model you want to customize and click on it to enter to the design page.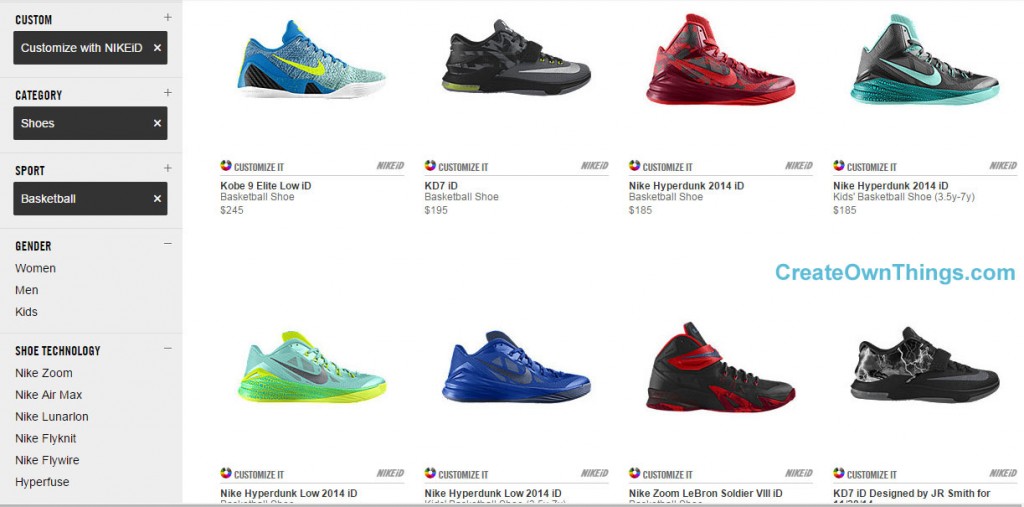 Step 3: There will be a sample shoe appear at this page and it is kind of huge. That makes your design look clear. Click on Start Customizing to begin your design.
Step 4: There will be a color panel on your right and this is where you should begin your design. You can select the pattern, color, and material for each part of the shoe. The sample shoe on your left will change according to what you have selected in the color panel. What you need to do is to complete each part of the shoe with your preferred color or texture including the base, tongue, lining, lace, midsole, outsole, and others.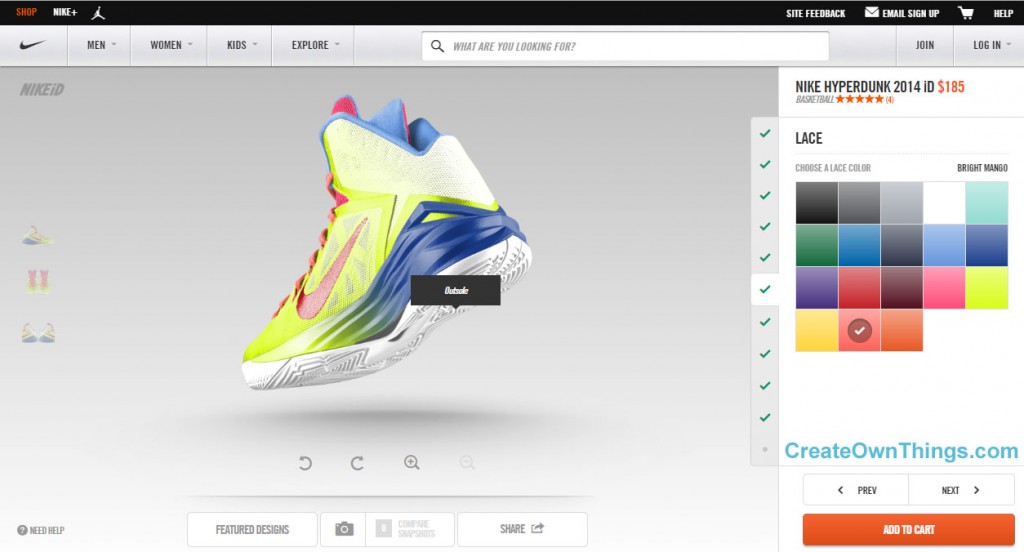 Step 5: Give a name to your own basketball shoes by adding a tongue iD to it. Be it your favorite number or your nickname, make sure it is yours! For a certain basketball shoes such as the Nike Hyperdunk 2014, you can add an extra inside tongue iD.
Step 6: Lastly, use the 360 degree viewer features to view the shoe again and again. You can always go back to the previous steps to edit and make your own basketball shoes look nicer. Also, there is an option to buy the shoe. You can click on the Add To Cart button and follow the process to make your payment to NIKEiD. NIKE will craft the shoe according to your design and deliver it to your doorstep within 2-4 weeks. Well, that should be a very good Christmas and New Year present for everyone.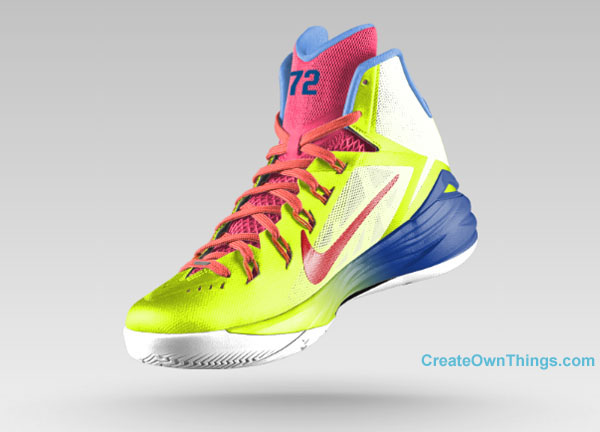 Custom Basketball Shoes
advertisements