Design Your Own Converse in 5 Steps
advertisements

With 5 easy steps, you can now design your own Converse sneakers online. If all is well, by the end of the third week you can have your own customized Converse arrive at your doorstep. Isn't that sounds very alluring? If you want to wear a Converse, wear it cool. Now you can be the coolest by wearing one unique Converse that no one else has it before. You can create your own Converse and choose any design or color you want on each part of the shoes including outside body, heel stripe, top part, or the material in inside body. The happiest part of it is the price that cost only from $45 for a pair of customized Converse. What are you waiting for? (This tutorial is for anyone who have never design a Converse online before, the step by step guide is very specific.)
1. Go to Converse.com and you will see Shop and Create button on top. Mouse over the Create button and click on the Design Your Own button.
2. You will be lead to a page full with customizable Converse sneakers. Whether it is for men or women, there are always more than 20 different types of style available in the store for their customers to customize. Chuck Taylor Arkham, Slip, All Star Hi, All Star OX, Double Upper Hi, Double Upper OX, Poorman Weapon, Star Player Hi, Double Tongue, DC Comics, Nean OX, and many more. Select anyone and go!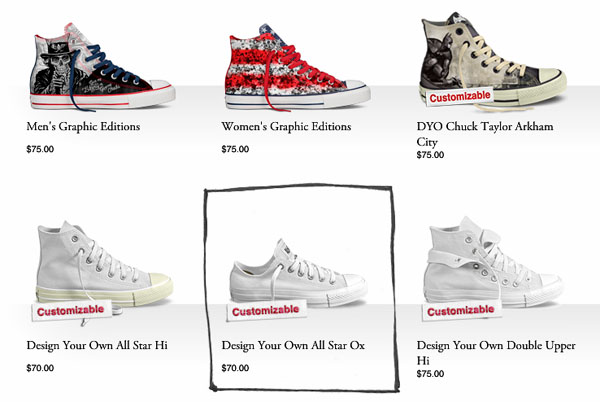 3. Lots of panels will pop up now but don't get shock. Every function is indispensable for you to create your own Converse and make it nice. There will be a panel on top showing you how many steps you need to go through to complete the design. For example, a customize Chuck Taylor All Star OX Canvas will have 15 steps.
4. Complete all the necessary steps follow the top panel. Tag your shoe and make it yours. You can tag an ID at low rear or heel strip depending on the shoe styles.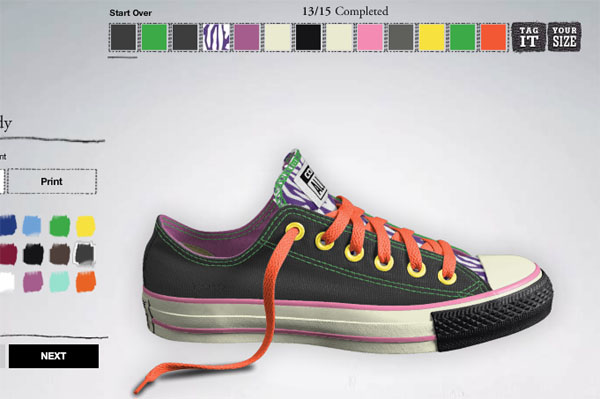 5. Last but not least, view the shoe again and again to make sure everything is what you want. You can then select the gender according to Converse sizing system, gender and quantity. Once the design is satisfied, proceed to the payment page, key in shipping address and it will be yours in less than three weeks.
Reference: Design your own Converse 
This article is written by Benjamin Kutcher, a reader of createownthings.com. If you would like to write for us, please use the contact form to contact us. We accept any DIY article related as long as you create, customize, make and design our own things.
advertisements