Design Your Own Kobe Bryant Shoes
advertisements

To all Kobe Bryant shoes fans, here is a good news for you – You can now design your own Kobe Bryant shoes online and Nike will build the shoe for you according to what you illustrate. You no longer need to check the Kobe Bryant Shoes release dates or wait for the latest Kobe Bryant shoes because you can now make one on your own. With the online software provided by NIKEiD, you are allowed to select any type of Kobe Bryant shoes and customize it, for instances, the Kobe 7 iD, Kobe 8 iD, Kobe 9 iD and much more. Why not try to customize your own Kobe Bryant shoes with the tutorial here if you are planning to buy one pair of new Kobe Bryant shoes? Let's get the party started.
Step 1: It is very easy to create your own Nike shoes. First, turn on your PC or Mac, open a web browser and access to NIKEiD official website. The official link is www.nike.com/us/en_us/c/nikeid. On your left, click on SPORT and then Basketball.
Step 2: You will be redirected to the Nike Custom Basketball shoe page. There will be a lot of cool basketball shoes at this page including the LeBron 12, Nike Hyperdunk 2014, KD7 iD Designed by JR Smith, Nike Kevin Durant, Nike Kyrie Irving, and more. Click on ATHLETE and then Kobe Bryant.
Step 3: Now you will see the latest and newest Kobe Bryant shoes. All the shoes listed at this page are customizable with NIKEiD. The shoe price is also stated clearly below the image of the shoe. Some of them are very cheap compared to the price you see from local store. Select the one you want to customize and click on it to enter to the design page.
Step 4: Click on Start Customizing to begin. Follow the color panel on your right to put your own design on each part of the shoe including upper, tongue, Swoosh, lining, laces, Backtab, heel overlay, midsole, outsole and others. If you like to build a black Kobe Bryant shoes, you can use black as your main color for upper, midsole and outsole. See how you can create your own basketball shoes.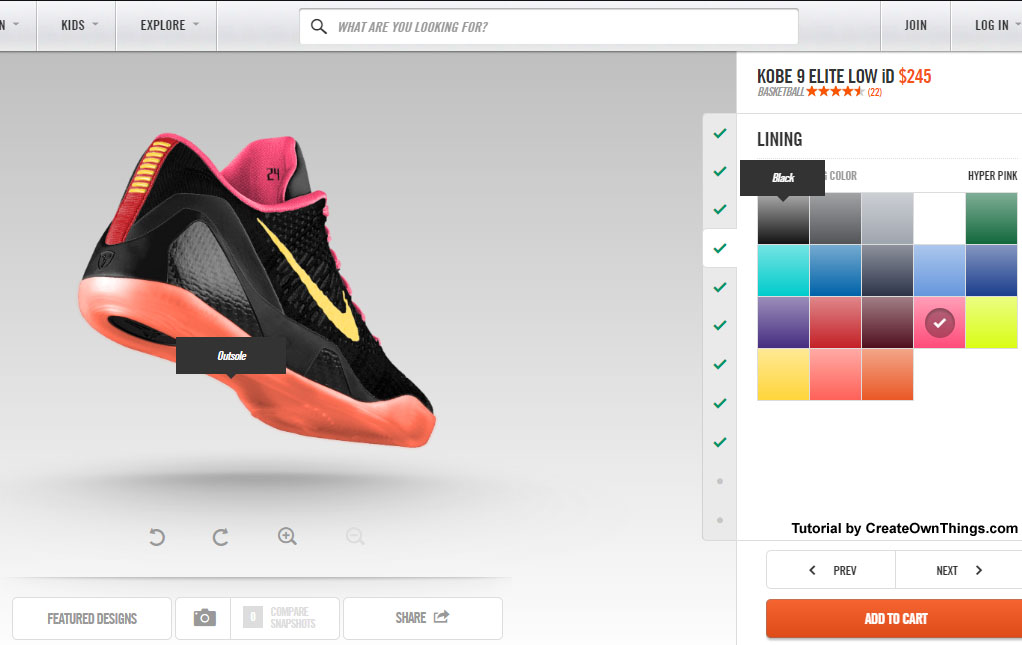 Step 5: There is an option to add a short iD or long iD to your shoe. Instead, you can leave it blank if you don't prefer to have any iD on it. Keep trying for different colors so that you will get what you want in the end. It is free to design your own Kobe Bryant shoes online and you can always refresh the page to start all over again.
Step 6: Select your shoe size and click Add To Cart if you would like NIKEiD to custom build the shoe for you according to your design. Alternatively, you can repeat the steps here to customize your own Kobe Bryant shoes again and again until you are satisfied with the design. Lastly, don't forget to get yourself a pair of Kobe socks in order to match with your shoes or sneakers. Alternatively, you may create your own LeBron James shoes or design your own Jordan shoes online.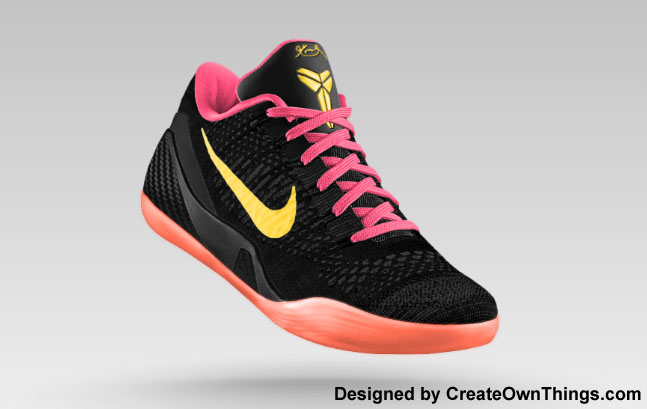 Black Custom Kobe Bryant Basketball Shoes
advertisements