Make Your Own Birthday Card
advertisements

Do you have a friend, lover, or family member with a milestone birthday just around the corner? Finding the best birthday presents for your loved one may be driving your headaches. A cool birthday card is still an important matter even though you have found an awesome birthday present. Here in this article I am going to teach you how to make your own birthday card. It will be a unique birthday card that you can't find elsewhere.
Use stamping kit to make a birthday card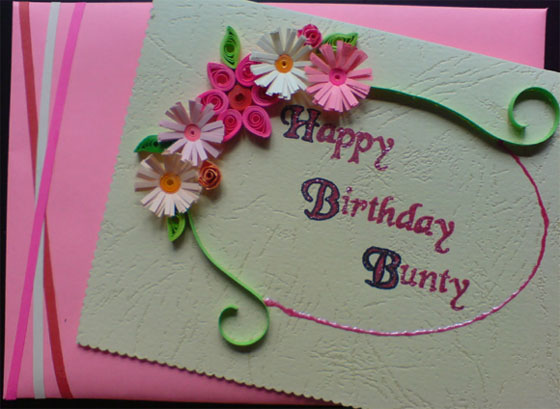 I have mentioned this method before in one my previous article Make Your Own Chirstmas Cards. It is certainly a good and simple idea because stamping kit is available for sale in any stationary store or grocery store. There are so many types of fonts available and you can pick any one to use on your birthday card. Alternatively, you can also mix two or three different types of fonts to create your message. The most important thing on the card is nothing but the "HAPPY BIRTHDAY" words. Other than fonts, colors are important too. Choose a plain card with your preferred color and stamp your message on it using different color stamp pads.
Combine a few cards into one
There was once I went into a store that sells thousands of birthday cards. I like the button design on the first card but the graphic I like is on the second card. While I kept looking for another card, there is a ribbon I love on the third card. It is weird if I give three birthday cards to a friend on his birthday. Here comes a great idea! I bought all of them, and then I combine them into one special birthday card using a pair of scissors and a bottle of glue. As a result, I make my own birthday card that can't find in any shop. My experience told me that you can combine two, three, four, or even five birthday cards into one. It all depends on your creativity.
Make your own birthday card online
There are at least a hundred websites offering free card maker online. You can simply log on to a few famous website to make your own birthday card using their online application and then print it out. Look for those websites that offer free printable cards. Some of the websites are offering ready-made graphics where you can just drag and drop the graphics you want on your birthday card. You can then add your own text or photo onto the card. Besides, not to forget that we are living in a world with advanced technology, there are tons of free mobile apps available for you to download and create your own birthday card. These apps usually allow you to connect both your smart phone and PC together and then you can print the card out from your printer easily.
Besides birthday card, there are still many cards you can do it your own: Make Your Own Pokemon Card.
advertisements