Design Your Own Skate Shoes
advertisements

There is no reason not to design your own skate shoes if you are a huge fan of skateboarding. With what we have today, it is extremely easy to design a pair of your very own skate shoes online. You can do this for free using a PC, Mac, iPhone, iPad, Android phones, or any tablet that is able to online. For people who are interested to do it right now, you can follow the step by step guide here to do it. It is easier than learning how to skateboard. Well, at least you don't get hurt while designing your own skate shoes online.
In skateboarding world, there are many popular shoe brands selling awesome skateboard shoes such as Adidas, Vans, DC, Converse Skateboarding, Dekline, Emerica, Puma, Etcetera, Filament, Footprint, Globe, HUF, Fallen, DVS, Adio, VOX, Osiris, Etnies, Zoo York, Habitat, Lakai, New Balance, Nike, Remind, Supra, éS, Volcom and much more. Often, you can get a pair of nice skate shoes within $100 or below $50 when there is a sale going on. However, you really have to design one on your own if you want to skateboard in cool way. In this tutorial, you will be taught how to customize your own Skate shoes using NIKEiD online program.
Step 1: First of all, access to NIKEiD official website at this link. On your left, there is a FILTER BY panel. Under SPORT, select Skateboarding.
Step 2: Now you should be able to see at least 10 different types of NIKE custom skateboard shoes available in this page, for example, Nike Stefan Janoski iD, Nike SB Zoom Stefan Janoski Mid Pemium Pendleton iD, and Nike Air Mogan Mid 2 iD. Pick the type of the skate shoes you like and click on it to Start Customizing the shoes.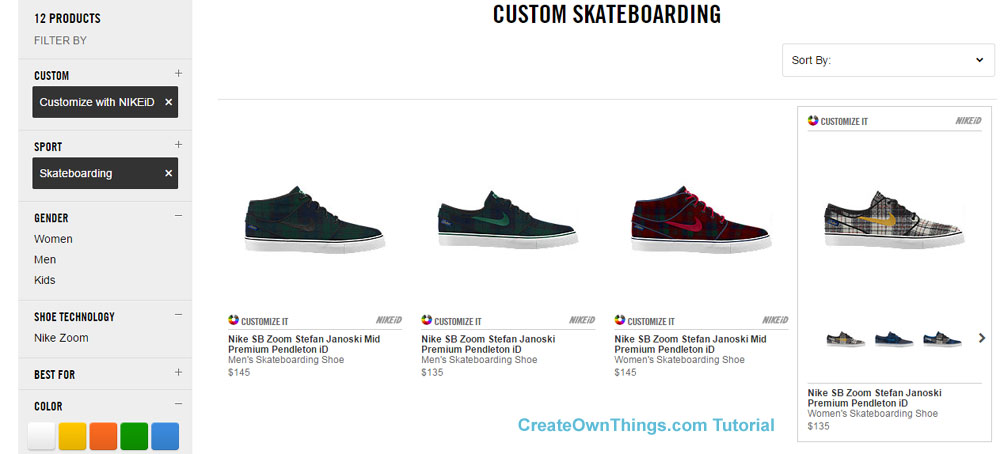 Sttep 3: In this page, you will see the price of the skateboarding shoe clearly stated on top left. As of December 2014, NIKEiD provides free shipping on every order, thus, that is the final price of your shoe.
Step 4: To begin your design, you can click on any part of the sample shoe and then select the color or material you prefer from the color panel on your left. For example, click on the sidewall of the sample shoe, you will then see the available sidewall color appear on your left. Click on your preferred color and the sample skate shoes will change accordingly. Isn't this is so amazing?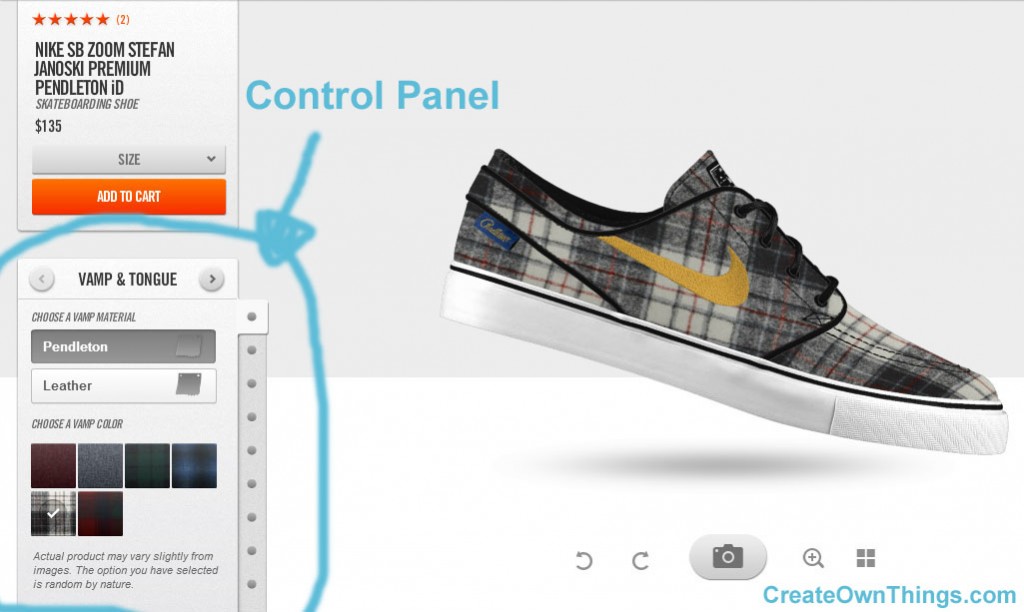 Step 5: Repeat step 4 to complete every part of the shoe such as vamp, tongue, quarter, binding, lining, lace, eyelets, sidewall, and outsole. You can also add a heel iD to make it unique. Make sure you have squeezed all your brain juice to design your own skate shoes to the top.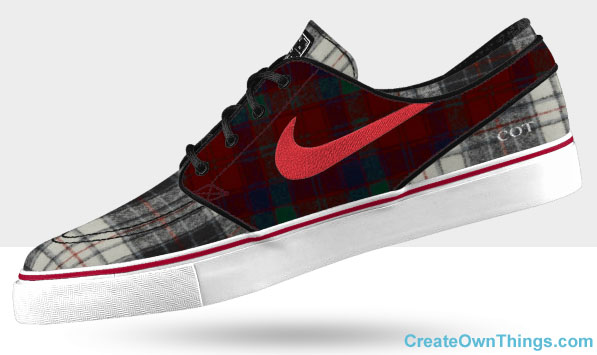 Last but not least, you may use the 360 degree viewer features to review your design from head to toe. You can always start over until you get the custom skate shoes that satisfy your desire. Besides, you may view someone else's custom skateboard shoes to get some inspiration.
advertisements