Create Your Own Vans Sneakers
advertisements

Where and how can I design my own Vans sneakers online? You are reading the right page if this is the question hanging in your mind. With what we have in our world today, you can create your own Vans sneakers online without paying a single dollar. There are thousands of color combinations and you can certainly design one very unique Vans shoes for your own. All it takes is five simple steps for any online users to turn a plain Vans sneaker to a special one. Anyone with credit or debit card can then place an order with Vans to get their customized Vans shoes. As this is an online program offer by Vans official website, you don't have to prepare papers or color pencils. Are you ready? If yes, follow these steps to design your own Vans then.
Steps to Create Your Own Vans Sneakers
Vans allows their customers in U.S., UK, Europe, and Australia to put their own design on a pair of plain Vans sneakers. They have an option to purchase them afterwards. You may still design your own Vans sneakers online even though you don't plan to buy them. It is free after all.
Step 1: To kick "OFF THE WALL", access to Vans official online page at here. You will be able to see a few different shoe styles but they are all plain shoes. Authentic Lo-Pro, 106, Old Skool, Era, Slip-on, and others. Just click on any style you like and start the customization.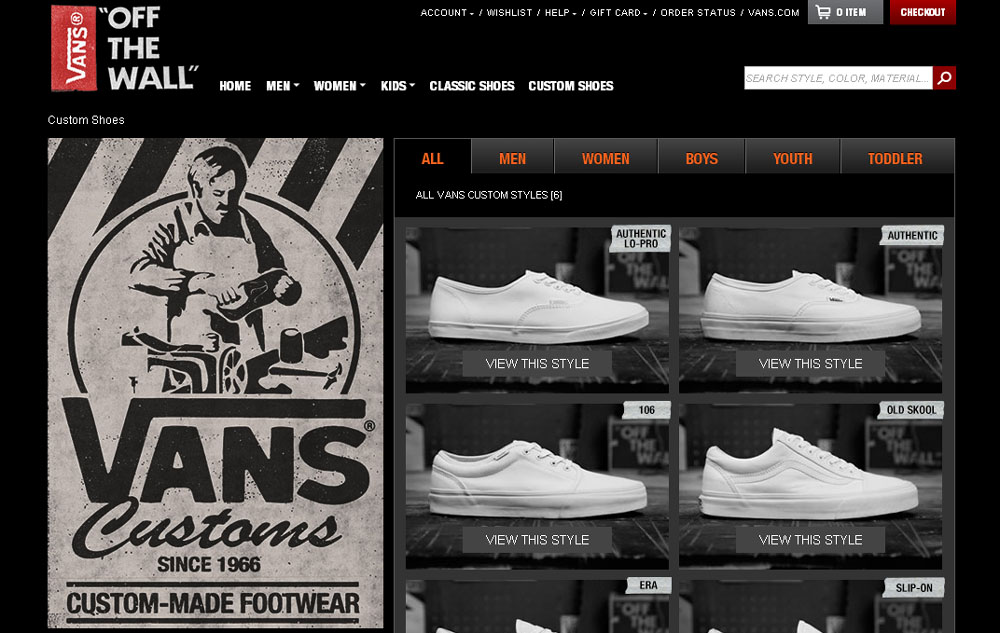 Step 2: There will be a plain Vans sneaker in front of you once you entered the page. As you can see from the picture below, you have to select Men, Women, Boys, or Youth. Select one that best suits your needs to begin the customization.
Step 3: Now the fun has begun! You have plenty of work to do. On your right is a long panel where you can customize the color and pattern for each part of the shoes. The sample shoe on the right will change each time you click on something on the color panel. There is also a few buttons below the sample shoe. Click on any of these buttons and you can view the shoes you design from different angle. Front, back, top, bottom, side, and more. If you are designing a Vans 106 sneaker, you have to put colors and your own design on vamp, tongue binding, collar binding, heel counter, quarter, laces, eyelets, collar lining, foxing, foxing stripe, as well as heel tab.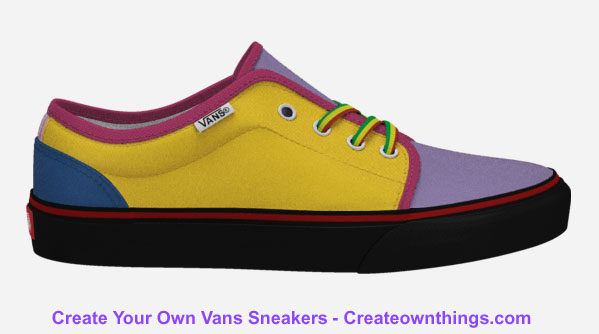 Pictures of customized Vans shoes – You can make your own online
Step 4: Lastly, it is time to create your own Vans sneakers! View it again and again until you are satisfied. Select the size and quantity and then you can add it to the cart. Make sure you select the size according to Vans standard. You may walk into any Vans store near to where you live and measure the size properly before the order is placed. What now? Make the payment and wait for your no-one-else has it Vans sneakers.
Want to try other shoe brands? Check out our guide to design your own Converse and create your own Nike shoes.
advertisements