Create Your Own Lebron James Shoes
advertisements

Try to create your own Lebron James shoes if you are looking to do some awesome thing in your life. While LeBron James has returned to Cleveland Cavaliers, it is awe-inspiring if you can make an exclusive Nike Lebron James shoes and wear it to the basketball court near to your house. It is meaningless if you spent $200 dollars to buy a Nike Lebron 10 or Lebron 11 Elite and then see your neighbour is wearing the same one at the same basketball court with you. It isn't cool at all. However, it is cool if someone sees you wearing a customized Lebron James shoes with your own name on it because no one else has it.
A custom Lebron James shoes does not cost extra money. With the budget of $150 to $250, it is unquestionably that you can create your very own Lebron James shoe. You can put your own design and preferred color on any part of the shoe you want. Besides, you can also put your own photo on certain models. Someone is going to shout this "Hey look! That's his face on his custom Lebron James basketball shoes!"
How to Customize Your Own Lebron James Shoes
Now here are a few delicious steps to create your own version of Lebron James shoes. These steps are almost similar to another article Design your own Converse. So if you have custom Converse sneakers then Nike Lebron James shoes are coming to your doorstep.
Step 1: First thing to do, access to Nike.com official website and look for Nike iD. The link to custom Lebron James shoes always changes so we can't share it here. You can go to Lebron James by going through the Customize -> Category (shoes) -> Athlete (LeBron James) -> Sport (Basketball).
Step 2: There will be a lot of Nike Lebron shoes at this page, for example, Lebron 11 Elite, LeBron XI Max Low, Nike Zoom LeBron Soldier VIII, and many more. Pick one to start the customization and make the LeBron X truthfully yours.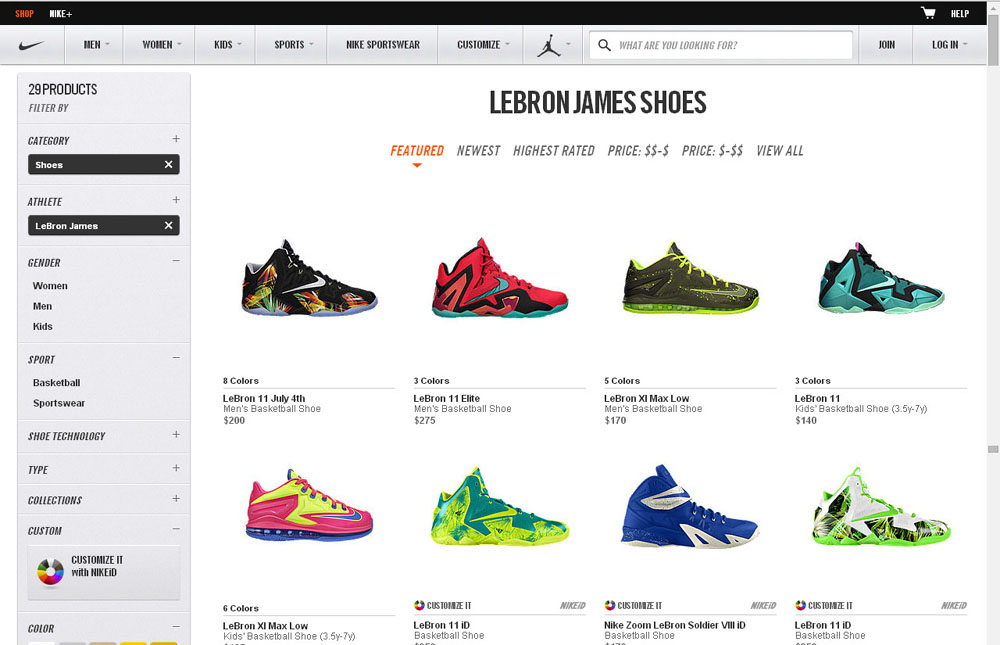 Step 3: The website will redirect you to another page with the LeBron X you selected in step 2. What now? Click to Start! On your left is a color panel. The panel has so many color, design options, as well as material to select from. Follow the step by step guide to choose the material and color you want, for instance, overlay, upper, upper accent, dynamic flywire, base swoosh, overlay swoosh, outsole, lace, lining, outsole shank, and others.
Step 4: Most of the LeBron iD allows you to put your own tongue iD. You have an option to choose long or short iD. Otherwise, you can leave it empty. Some other popular shoe brands such as Adidas and Vans also allow you to place your own iD on the shoe.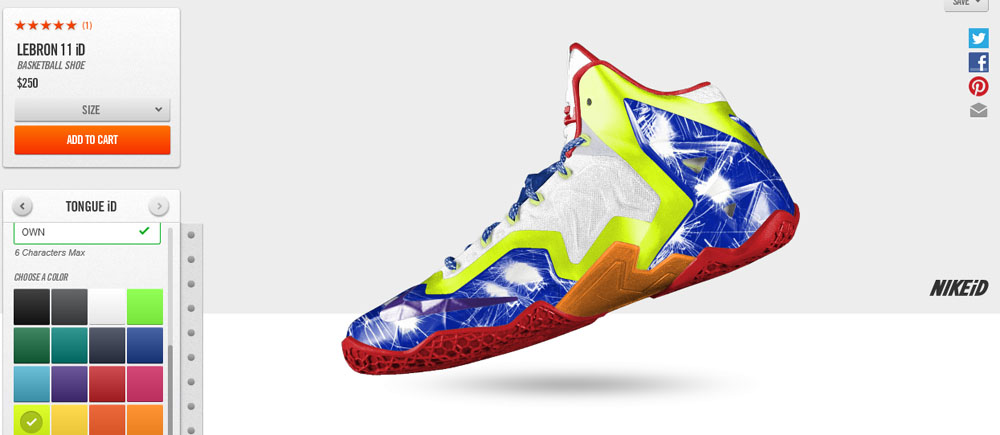 Customize your own Lebron James shoes online
Step 5: Lastly, if you would like to buy the shoe you design, please view it again and again before placing your order with Nike. Make sure you are satisfied with it and then click Add To Cart to place the order with Nike. Select your shoe size and your own LeBron James shoes will be at your doorstep within 4-6 weeks.
These are interesting too: Create your own Nike shoes, Design your own Jordan shoes online.
advertisements